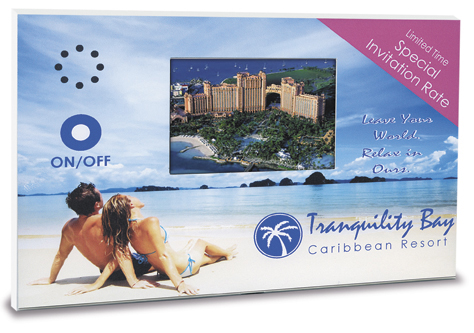 Attendees get piles of mail from exhibitors before and after trade shows, and making your communique stand out can be a challenge. Sending a video postcard, however, creates a "wow" message that is virtually assured to be seen and shared by attendees who have likely never received anything like it.
The Video Youbook postcard by Trackable Graphics is a 4-by-6-inch postcard printed on glossy cardstock and embedded with a 2.8-inch-square video screen activated by a simple on/off button. Videos loaded onto the cards can play messages of up to 10 minutes on a high-resolution LCD screen with crystal-clear sound, and the embedded battery will allow up to three hours of continuous playback.
A customizable direct-mailer box and screens up to 7 inches are available.
Contact: Trackable Graphics, West Palm Beach, FL, 561-967-0602, www.videoyoubook.com