If you want to anchor your exhibit space while providing an
overhead identifier that attendees can spot from aisles around,
then a full-blown booth ceiling is one way to go. Problem is,
the massive components can require endless hours to install.
Another option, then, is to scale things down a bit with limited
architecture and/or lightweight materials. Providing branding
and identification as well as eye-catching allure, these six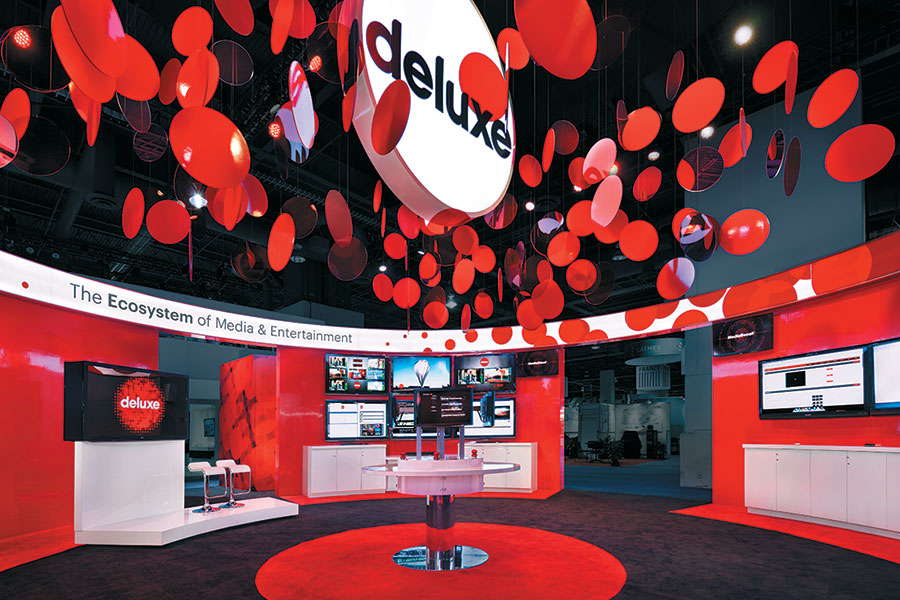 PHOTO: PADGETT AND CO. INC.
Dynamic DPI
Exhibitor:
Deluxe Entertainment Services Group Inc.
Show:
National Association of Broadcasters
Design:
Jack Morton, New York, 212-401-7000,
www.jackmorton.com
Even the slightest movement can trigger a fight or flight reaction,
causing us to evaluate the source. That's why this dramatic jumble of red dots,
which swayed and rotated ever so slightly, was so effective at attracting attention.
Fabricated by Cogswell Design Inc., the design was spot on.
---
PHOTO: PADGETT AND CO. INC.
I'm Lovin' It
Exhibitor:
McDonald's Corp.
Show:
McDonald's Europe Worldwide Convention
Design:
DesignShop Inc., Orlando, FL, 407-251-1800,
www.teamdesignshop.com
How can overhead eye candy do double duty? For McDonald's Corp. the
answer was to turn these dangling delights into messaging and
delineation devices. Three oval, unfinished-wood constructions marked
three unique spaces within the larger exhibit below.
---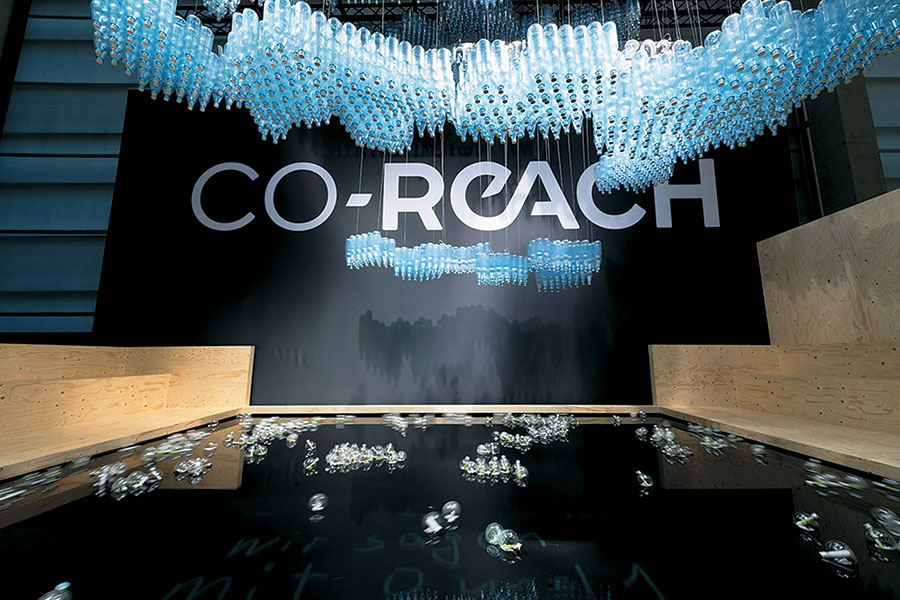 PHOTO: PHOTOPROP
Bottle Topper
Exhibitor:
NurnbergMesse GmbH
Show:
Co-Reach
Design:
Ueberholz GmbH, Wuppertal, Germany, 49-202-280-960,
www.ueberholz.de
To communicate a complex message about digital media, NurnbergMesse
GmbH used a simple device: recyclable-plastic bottles. Roughly 3,000 of them
formed a suspended "cloud" over the exhibit space, which included a water feature
filled with floating bottles housing paper messages.
---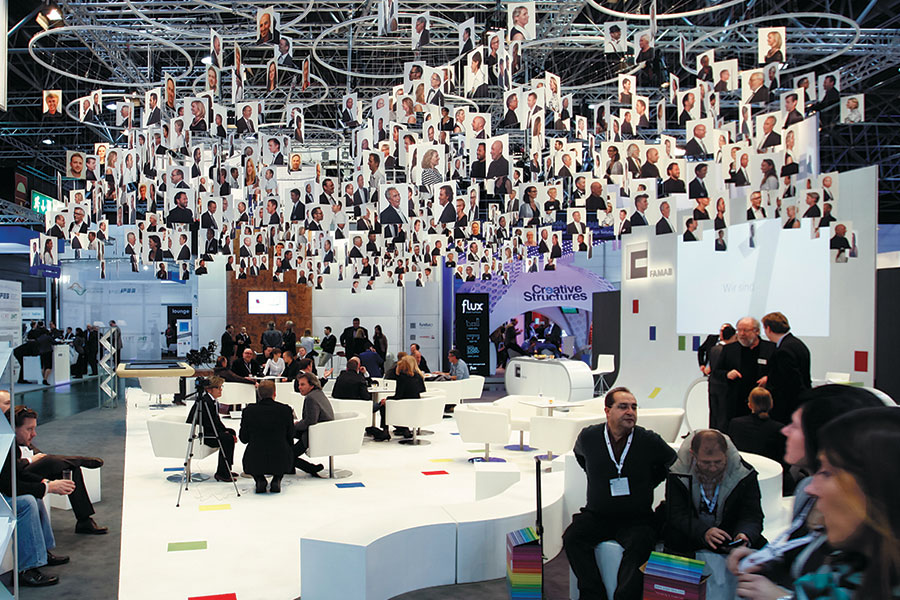 PHOTO: RICHARD MENZEL
Upwardly Mobile
Exhibitor:
FAMAB
Show:
EuroShop
Design:
Gtp2 Architekten, Dusseldorf, Germany, 49-211-550-299-10,
www.gtp2-architekten.de
This ceiling structure from the German equivalent of the Exhibit Designers
& Producers Association comprised members' head shots suspended via wire.
Relatively easy to construct and install, the moving mobile captivated visitors
and shined a spotlight on the association's members.
---
PHOTO: PADGETT AND CO. INC.
Lights Fantastic
Exhibitor:
Lighting Science Group Corp.
Show:
Lightfair International
Design:
DesignShop Inc., Orlando, FL, 800-685-7702,
www.teamdesignshop.com
Sometimes, ceiling elements are just as functional as they are aesthetically
pleasing. In this exhibit for Lighting Science Group Corp., 11 light fixtures
comprising orange-fabric cylinders drew the eye, highlighted the products,
and formed a delicate curve over an angular space.
---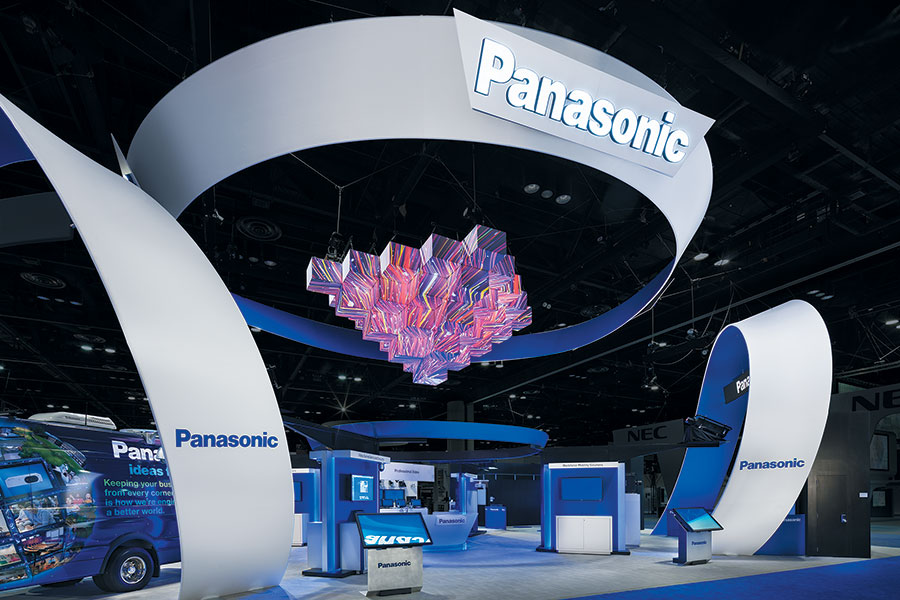 PHOTO: PADGETT AND CO. INC.
The Great Pyramid
Exhibitor:
Panasonic Corp.
Show:
InfoComm International
Design:
Lynch Exhibits Inc., Burlington, NJ, 609-387-1600,
www.lynchexhibits.com
Amid a neutral color palette, this 41-cube, inverted, fabric pyramid from Moss Inc.
featured pops of brilliant hues. Colors ranged from blue and green to what almost
looked like electric streaks of pink and purple, courtesy of projection mapping
from Camagine Design.