As guests entered the Aragon Ballroom, models dressed as "hired spies" passed flutes of champagne. The so-called spies also gave guests "missions," or fun, thematic tasks to complete throughout the evening.
Photo: Marcin Cymmer
Event Creative decked the venue with 007-inspired decor. One of the evening's interactive activities, or "missions," was to snap a photo in front of a step-and-repeat featuring a spy plane.
Photo: Marcin Cymmer
Another one of the missions: posing for a photo in front of a golden "007" logo that appeared at the top of a stairwell.
Photo: Marcin Cymmer
The illuminated bar had the image of a safe embossed with Groupon's "G" logo.
Photo: Marcin Cymmer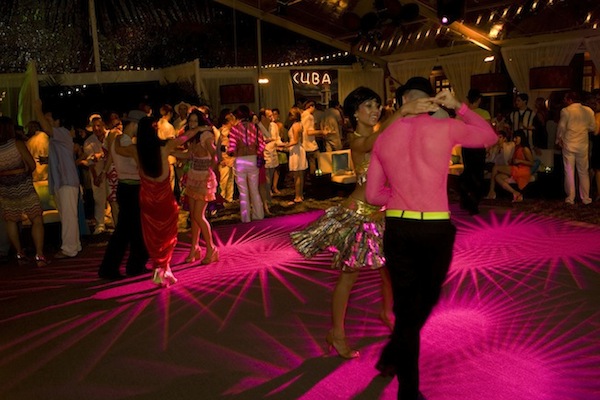 Get Up Close and Personal! If you're showcasing performers such as dancers, gymnasts, stilt-walkers, aerialists, etc., consider integrating their work into the crowd during cocktails or a reception. Seeing performers up close is always more compelling than sequestering them far away on a stage or in one area of a space.
At this year's Rolling Stone Live Super Bowl party, producer Toast created a "trashed hotel room" where guests could take photos and pretend to live the rock star life. The event took place at the Bud Light Hotel, a Wyndham property in New Orleans rebranded for the weekend.
Photo: Gustavo Caballero/Getty Images for Rolling Stone
At the Sylvester Comprehensive Cancer Center's gala in Miami, guests could pose for photos behind an oversize golden picture frame. Shiraz Events provided decor for the event, which drew 600 guests to the JW Marriott Marquis Miami and Hotel Beaux Arts in December.
Photo: Courtesy of Shiraz Events
At the Lipton Uplift Lounge at the Sundance Film Festival in January, guests including Lil Jon could pose for photos while sitting in a real ski-lift chair set against a snowy, branded backdrop.
Photo: Todd Oren
David Copperfield helped produce the L.A.'s Promise "A Night of Magic" gala in October. The producers at Chad Hudson Events worked with Copperfield's team to set up a photo booth that made it look as though guests were floating in midair in front of the famous magician. In reality, the station had a potted plant placed sideways against a wall, while attendees stood on a metal stand that was hidden from the camera by clothing and feet.
Photo: Sean Twomey/2Me Studio
Last fall's New Yorkers for Children gala had a "light the way" theme, inspired by the nonprofit's mission to improve the lives of young people. David Stark handled the decor, embellishing a photo backdrop of a forest scene with white birch trees, lush greenery, and a path lit by lanterns.
Photo: Billy Farrell/BFAnyc.com
Source: BizBash and Huffington Post