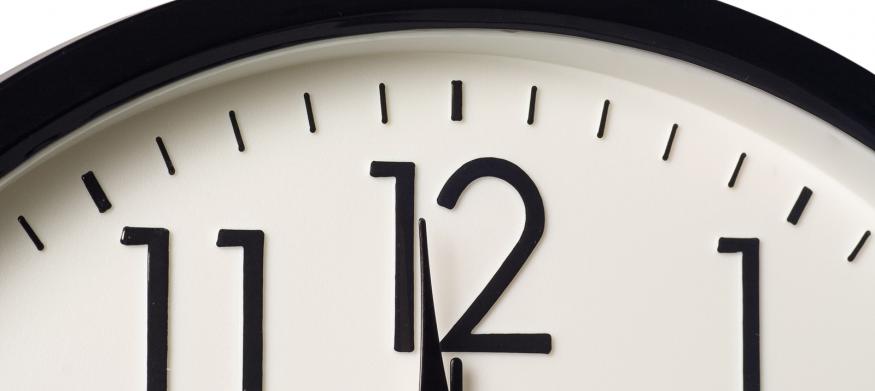 What do you do when you have less than a month to prepare for a new trade show? Exhibit-marketing experts offer this seven-step guide to last-minute planning, along with a detailed timeline to help walk you through the process. By Linda Armstrong
According to EXHIBITOR Magazine's 2016 Reader Survey, the majority of marketers begin planning for a trade show 10 to 12 months in advance. But that kind of lead time isn't always available. Whether an exhibiting opportunity pops onto your radar at the last minute, new products or acquisitions push you to consider a trade show outside your typical marketing calendar, or internal stakeholders simply drag their feet, sometimes exhibit managers need to whip up a face-to-face marketing campaign in 30 days or less.
What do you do if you're charged with this do-or-die scenario? What's your first step – and your second, third, and fourth? EXHIBITOR asked five veteran marketers these very questions. Their answers, along with myriad tips, tactics, and considerations, will help you survive and thrive despite last-minute marketing mayhem.
STEP 1: Analyze the show and potential costs.
Your first step is to launch a rapid fact-finding mission and present a worst-case scenario to management, says Dana Tilghman, CTSM, CMP, senior trade show and events planner at Minitab Inc. "Even if your company's CEO is the one telling you to add a new show to your calendar, push back a little and do your homework," she says. "After all, if the show is a horrible fit for your company, or rush charges and unexpected costs trash your return on investment, it's your neck on the chopping block in the end."
Begin with a call to show management to make sure the exhibit hall isn't sold out. "You'll actually tackle space selection in step two," Tilghman says. "But right now you simply need to know if anything is available – you need not know where it is, how big it is, or how much it costs."
"During this call, ask for all attendee and show data, such as attendee demographics, attendance figures, products/services typically exhibited, location of exhibiting competitors, show audits, number of attendees versus exhibitors, media attendance, etc.," Tilghman says. Then analyze this information to determine if the show attracts your target audience, and if there are enough of these prospects to warrant exhibiting in the first place.
"If your target market is absent," Tilghman says, "immediately present your findings to company stakeholders to make sure they still want to forge ahead. But if your target market is present, your next step is to determine if it's cost effective to attend." To do so, you can use whatever ROI or budgeting comparisons you prefer, but Tilghman suggests you compare your average cost per lead to the projected cost per lead at the new show. To figure your existing cost per lead, divide past shows' budgets by the number of leads collected at them. And for the new show, use past show metrics to estimate a budget and the number of leads you can likely expect to gather.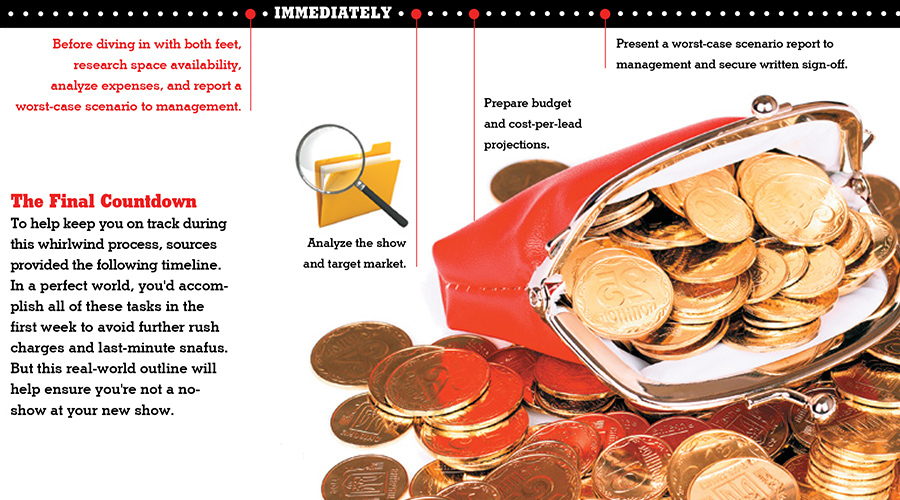 But it's important to be realistic when estimating the new show's budget. "When your planning starts late in the game, you've likely missed all of the early discounted deadlines," Tilghman says. "Plus, you'll incur late or rush charges for graphics or promotions production, so pad your budget estimate accordingly. And since you're a new player at the show in question, you likely won't score your average number of leads straight out of the gate." In addition, lead counts could be dragged down by any number of variables, such as a smaller-than-normal booth, a poor space location, etc. As such, sources suggest that you lowball lead estimates, perhaps knocking 25 to 30 percent off your regular averages.
Finally, prepare a worst-case report for management featuring a comparison of your average cost per lead and the projected cost per lead at the new show. Also include your show research, existing budget/lead information, etc., and discuss the variables that could affect your outcomes.
"For example, explain that you might have to rent a booth if your existing structure is out at another show, you may need to hire temporary staffers if your regular team is busy, and your presence might be limited by a less-than-ideal space in the hall," Tilghman says. "Plus, discuss the added costs of promotions and sponsorships necessary to generate awareness with a new audience and any other extra expenses you might incur. The purpose of this report is to make management aware of the last-minute costs, potentially limited outcomes, and possible pitfalls – and to get stakeholders to commit, in writing, to taking the next steps."
STEP 2: Secure a booth space and negotiate discounts.
The next step is to find a booth space. When you contact show management, you're likely to find yourself in one of two scenarios: 1) Space is limited, which means you'll be paying through the nose or stuck at the back of the hall, or 2) space is plentiful, which gives you bargaining power.
"If space is at a premium, take the best spot you can get and ask to be put on a waiting list for cancellations," says Kolleen Whitley, CTSM, CMP, former senior event and trade show manager for Heartland Payment Systems Inc. "Just remember that if you change locations at the last minute, you may also need to alter any collateral or promotions that feature your booth number."
Another option is to partner up. "If your company has business relationships with other large exhibitors, see if you can pay to play in their space," says Judy Volker, marketing director at Iatric Systems Inc. "Granted, some shows don't allow co-exhibiting, but they may change their tune if no other spaces are available." In addition, sources suggest renting a smaller-than-normal space, thereby decreasing typical space-rental fees. You can then reallocate leftover funds into top-notch sponsorships and promotions to generate awareness.
The aforementioned tactics apply to space-shortage situations. But if the show has a space surplus, the ball is in your court, as show-management will be itching to offload empty spaces – even if it means granting favors or issuing discounts. "First ask for a discount off space costs," Tilghman says. "If that's not an option, inquire about discounts on show services, drayage, etc., or see if you can receive early bird discounts across the board."
Tina Kruse, global exhibitions and events manager at FMC Technologies Inc., suggests that your last-minute space contract could foster long-term discounts. "Try negotiating a multiyear contract for booth space. It might result in a significant discount," she says. "Show management may be more willing to offer a price break this year if they know they're going to get repeat business down the road."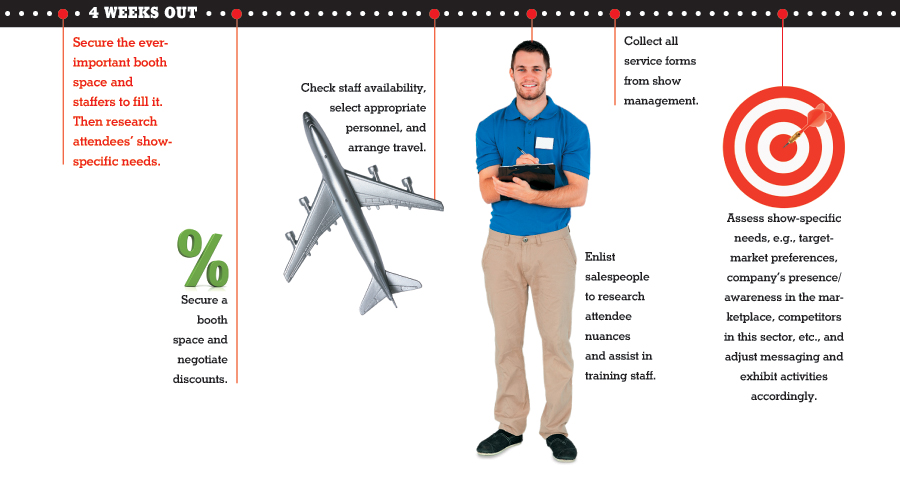 Finally, collect all show-service forms and pose any related questions to show management. Crossing every "T" and dotting every "I" on the forms probably isn't necessary until step five, but start the form-completion process now so you can head off any issues immediately.
STEP 3: Identify staff and train to suit the audience.
"If there aren't enough people available to staff your booth, or if the right staffers aren't available, then all other planning steps are moot," Volker says. So immediately after you have a space, determine the following: what information attendees need from your staff, which employees can best deliver this information, whether these employees are available, and who you might get to replace them if necessary. Any replacements could include employees in other divisions or temporary staffers trained for this scenario.
Jeff Dodge, marketing project manager of trade shows at CSA America Inc., recommends making travel arrangements as soon as you finalize your staff roster. "Flights are usually more expensive at the last minute, and the longer you wait, the fewer economical hotel options will be available," he says. "Start making reservations as soon as possible, but try to secure tickets and reservations that can be cancelled without penalty in case management pulls the plug."
Finally, once you know who's going to the show, you need to train them on the special nuances of this audience. Enlist the help of salespeople to suss out attendees' pain points and information needs and pass this information on to your staff. "For example, staffers should know what products or services attendees find most interesting, and perhaps what pricing models best fit this sector," Dodge says. "And consider the competition and how your product or service stacks up. Competitors will likely put a negative twist on your newcomer status. Staffers need to be ready to react with something like, 'Indeed, this is our first time at this show, but we've been in this industry for 45 years.'"
STEP 4: Configure and/or rent exhibitry.
Lucky exhibitors will already have a booth that perfectly fits the space they've selected. But if you're not that fortunate, it's time to rent other structures or reconfigure what you've got. "Given the high quality of rental structures, you can almost certainly rent everything," Whitley says. "And if you choose rental vendors in the show city, you can also eliminate shipping costs."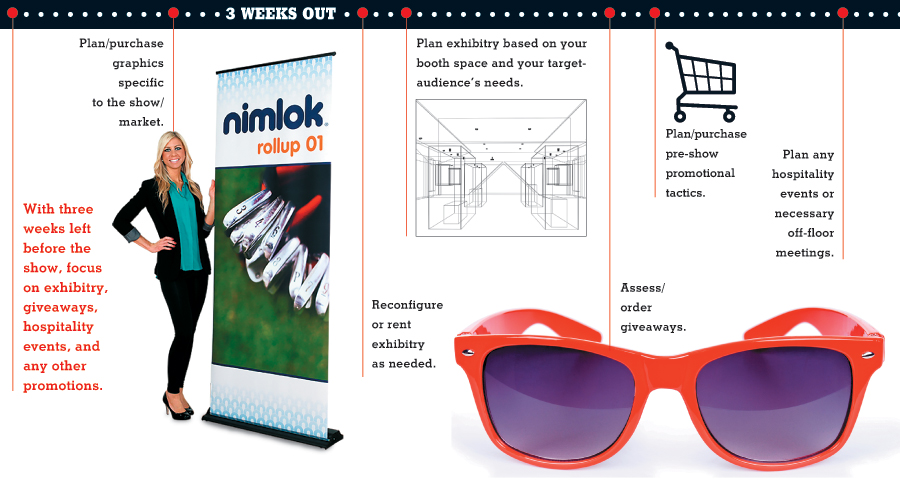 If you end up with a mammoth booth space, Whitley suggests you look for partners to share the costs, instead of assuming you have to fill it with exhibitry yourself. "Seek out business partners or even divisions of your company near the show locale and offer them space within your exhibit for a minimal cost," she says.
On the other hand, if you must reconfigure or downsize your typical exhibit footprint, Kruse says you should analyze the value of each component. "Prioritize all of the exhibitry you usually use and keep only those elements that directly support your marketing goals at this particular show, along with one key attention getter that quickly communicates who you are and what you do," she says. "Everything else is ancillary." Kruse also suggests analyzing the alignment of your booth within your space and rotating the structure to take advantage of your new show's traffic patterns and hall-access points.
While securing the proper exhibitry is paramount to your presence, ensuring that your message and delivery mediums fit attendee preferences is even more important. "You can't assume that the same old messages and graphics will work with every audience," Dodge says. "Work with your sales team to assess the audience's preferences, communication styles, technological prowess, etc. and then adjust everything from graphics to traffic builders to best meet attendees' needs."
STEP 5: Assess labor, show services, and transportation.
Unless you're trying something radically different for this new show, your last-minute exhibit should have basically the same labor, show services, and transportation requirements as your existing booth. The only real difference is that some services may not be available at the new show – or they may cost you an arm and a leg. So to help your company sidestep some of these last-minute service snafus, consider the following cost-cutting strategies.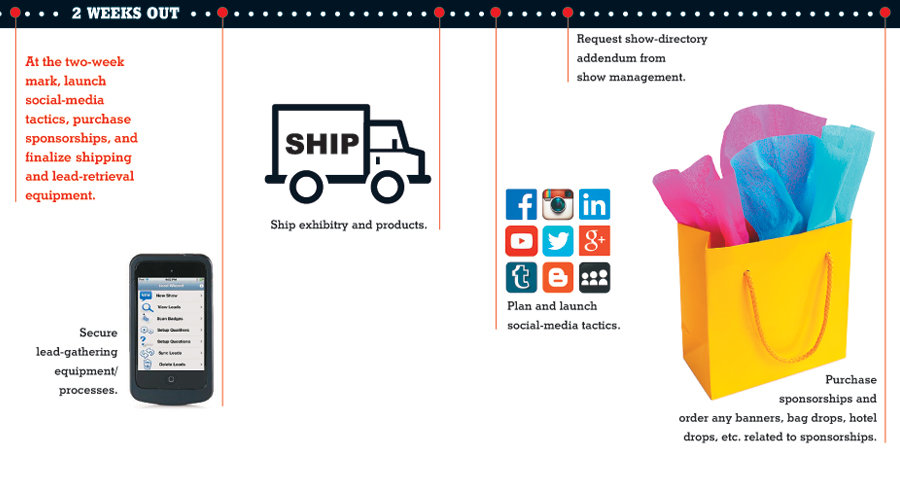 Contact service providers to secure ballpark estimates and availability, and adjust your plans as necessary. "For example, rigging might be incredibly expensive in the new venue, causing you to forgo the hanging sign you had planned," Tilghman says.
Also compare prices for exhibitor-appointed contractors versus the general service contractor. Unique venue, labor-union, or city regulations may make one option more cost effective than another, Volker says. "Similarly, consider all transportation options as opposed to just what you normally use," she says. "Given the show's locale and the timing involved, a previously inviable option may be your best bet in this situation."
If costs seem prohibitive, look outside the box for service-related solutions. "For example, identify partners that plan to be at the show and see if they'll add you to their existing service orders," Whitley says. "Obviously, you'll have to pay for the added costs, but you might be able to take advantage of their early bird discounts."
Similarly, Tilghman suggests you double up shipments. "Ask your carrier if it has any other cargo going to the show from your area," she says. "If so, try to get your exhibit on the same truck and secure a pricing discount. And don't hesitate to call service providers and plead your case," Tilghman says. "You'll be surprised at what discounts people are willing to grant you if you merely ask."
More likely than not, if you're exhibiting in a new show, attendees are only minimally aware of your company and its offerings. As such, promotional tactics are critical to ensure you make an impact and attract attendees – particularly if you're stuck with a less-than-ideal space on the show floor.
Sources offered a bevy of promotional ideas, such as creating messaging and tactics that poke fun at a poor booth location (thereby drawing attention to your firm), enlisting salespeople to call local customers and prospects, developing a sizeable social-media campaign (which can be particularly effective given the medium's immediacy), and employing digital promotional tactics (which are usually easy to deploy at the last minute), such as hotel promotional channels, in-taxi promotions, and electronic reader boards and show directories. Also consider any sponsorships still available from show management as well as inventive ideas of your own that you can pitch to management reps.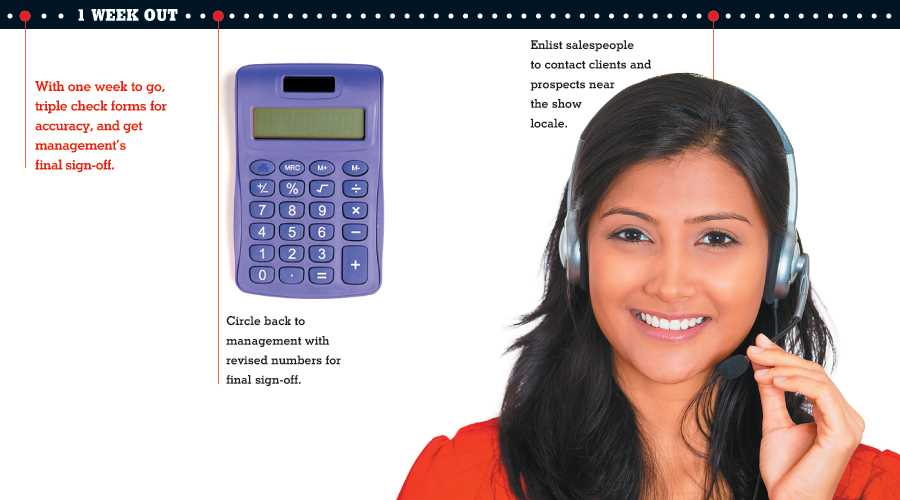 Tilghman, however, offers a few additional options. "Rather than trying to secure new prospects on your own," she says, "offer an incentive – maybe free swag or a pricing discount – to existing customers that bring new prospects to your booth. Or, send customers some of your existing swag, such as hats or T-shirts, prior to the show. Then ask them to wear the items and visit your booth for a special gift. This way, customers spread awareness on your behalf."
"Another option involves your corporate partners," Tilghman says. "Maybe you could create a promotion whereby they funnel attendees to your booth, and you do the same for them. Or if partners or customers are offering educational sessions, see if you can put your literature on attendees' chairs before each session."
When it comes to purchasing last-minute promotional items, sources recommend that you look internally first and then negotiate long-term discounts. "Before you whip out your credit card to buy a whole bunch of tchotchkes, assess your inventory to see what you've already got," Volker says. "If existing items don't have a booth number on them, they're perfect for this last-minute situation."
"If you simply must buy something new, consider merging this last-minute order with an upcoming order," Whitley says. For example, if you're going to order 100 pens for a show that is three months down the road, why not order 200 now and secure a quantity-based price break, which could offset any last-minute rush charges.
STEP 7: Circle back to management and review plans.
Once you have all of your program components in motion and have developed a much better understanding of what this late-term endeavor is going to cost, Volker suggests you prepare a new exhibiting brief for final management sign-off.
"Bring your final figures to management, along with news of any new problems that arose during the last three weeks," Volker says. "Then ask for their blessings to continue. This is their last chance to step away from the open airplane door before you all jump and pull the ripcord." If costs are exorbitant, some stakeholders will back away at this stage in the game – even if it means losing deposits and partial payments. Give them one more chance to commit to or reject your plans.
Assuming that all of your internal stakeholders are still on the same page, use the last week before the new show to tie up any loose ends and to double and triple check all of your plans. "It's easy to make mistakes when you're rushing through what would otherwise be a very methodical process," Dodge says. "Ramp up your attention to detail. Use a fine-tooth comb to go over all text, such as that on graphics, literature, and any promotional pieces, looking for any incorrect information, typos, messaging inconsistencies, etc. Then review all of your deadlines and schedules to make sure everything and everyone is headed to the right place at the right time, and that all labor crews, transportation providers, and the like have been scheduled, and any related deposits or other associated fees have been paid."
Finally, sit back, relax, take a deep breath, and pat yourself on the back. After a seriously busy month of juggling so many time-sensitive elements, you'll likely have a killer migraine. But if you followed these seven steps, you should also have a killer marketing strategy that will make you and your stakeholders proud – and just in the nick of time.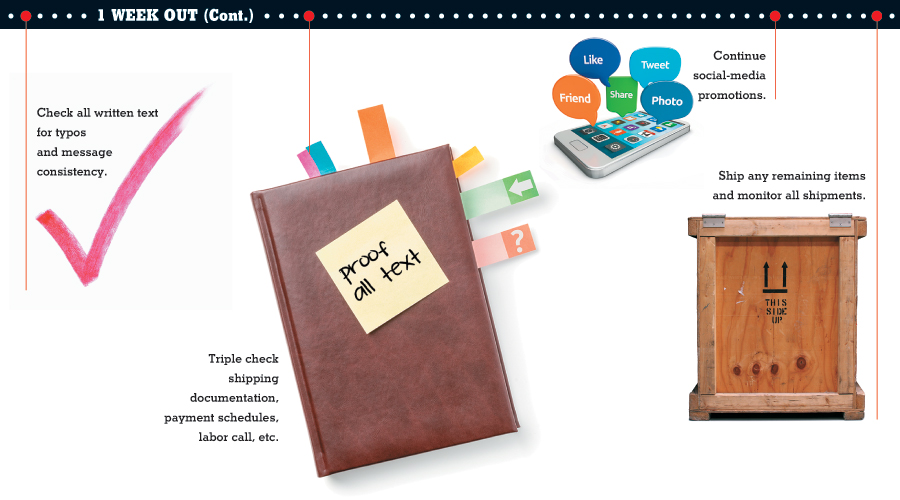 Source : ExhibitorOnline