Girls love dressing up, (well most of us girls, anyway!) so when an excuse for a themed party comes up- (eg a new princess movie- Cinderella), we can't wait to raid our closets and create new accessories to complete the look.
Source:http://themetapicture.com/crazy-disney-princesses/
But we're not here to talk about dressing up, are we? We're here to help you plan your next princess party (more suitable for girls aged below 10)!
PARTY INVITATIONS
Let's start with the printable invites:
These are great for those who prefer to print from home. They're FREE!
CLICK HERE
and
HERE
and
HERE
Otherwise, you can purchase ready-made ones online
Cinderella Invitations 8ct
DECORATIONS
DESSERT TABLE
The dessert table is simple enough to do on your own. Frame can be purchased from IKEA along with the white trays and dessert holders.
The sequinned backdrop fabric can be purchased from your fabric store or bought
here:
90x156" Sequin RECTANGULAR Tablecloth - Gold
Mirror can be purchased online here
White Ornate Fleur De Lis Frame Decorative Wall Mirror 23 1/2" Tall
TABLE CENTREPIECE
All you need is a square clear jar for each table or one between each guest with hydrangeas and a cut out Cinderella printed on baby blue conqueror paper or at least 120 g paper so that it stands on its own.
Silhouette cut out template can be found
here
Ribbon Connections 36mm(1-1/2") Silk Satin Ribbon 3.3yds (139 Powder Blue)
Metallic SILVER Lace Trim for Bridal, Costume or Jewelry, Crafts and Sewing, 3 Inch by 1 Yard, LP-1316
Royal Lace Round Foil Doilies, Silver, 10-Inch, Pack of 8 (B26506)
Cinderella Carriage Balloon - 33 inch Foil Mylar Cinderella Balloon
Light Blue 7" Paper Plate, 8ct.
Powder Blue 9oz Cups
WELCOME TIARA
Rhode Island Novelty Tiaras with Heart Stones (12-Pack)
FOOD AND BEVERAGE
Cinderella's Dreamy Pumpkin Waffles
What You'll Need
• 1 cup all purpose flour
• 1 cup whole wheat flour
• 1 3/4 cup pumpkin purée
• 1 3/4 cup light coconut milk
• 2 tablespoons vegetable oil
• 2 eggs
• 1/3 cup brown sugar
• 1 1/2 teaspoon cinnamon
• 1/2 teaspoon nutmeg
• 1 1/4 teaspoon baking powder
• 1/4 teaspoon salt
• cooking spray
• 2 tablespoons pumpkin seeds
Helpful Tip
Makes 4-6 waffles
How To Make It
1 Preheat waffle iron.
2 In a large bowl, combine your flours, baking powder, cinnamon, nutmeg and salt.
3 Next, make a well in the center of your dry ingredients and add the brown sugar, vegetable oil, light coconut milk, pumpkin purée and eggs. Mix to combine being careful not to over mix.
4 Spray your preheated waffle iron with non-stick cooking spray and spread half a cup of batter onto the iron. Cook for 5-8 minutes or until golden brown.
5 Garnish your waffles with pumpkin seeds and enjoy!
6 Make extra waffles with the batter and freeze. Reheat for a quick breakfast during your busy week!
PUMPKINS!
Mandarin oranges make cute mini pumpkins which are sweet to eat
Cheese and biscuits and anyone?
ACTIVITIES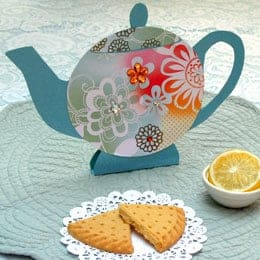 With this stand-up paper teapot craft, party-goers can take turns pretending to pour each other a spot of tea. You can even set up a crafting station for kids to decorate their own pots during the party. Simply use the printable template to assemble a teapot base for each guest and then provide colorful scrapbook papers, sparkly faux gems, and stickers to embellish them. When teatime is over, the kids can take their pots home as party favors.
Time: 25 minutes
What You'll Need
How To Make It
1

Print out the template. Cut out the pieces and use them to cut two teapot bases out of cardstock and two sets of pots and lids out of decorative scrapbook paper.

2

Fold the bottom section of the teapot bases along the lines printed on the templates. Glue one teapot base atop the other, leaving the folded sections unglued.

3

Then overlap the bottom edges and glue them together, as shown, to form a stand for the teapot.

4

Glue a paper lid and pot onto each side of the teapot.

5

Then your child can embellish it with faux gems and/or stickers.
Notes: Cutting should be done by an adult.
Looks like you're all set for an awesome party!